Broadway Market
Open from 9am to 5pm on Saturdays
Fred Cooke started selling jellied eels on Broadway Market in 1900 and after some rocky years in its century long existence the Market was revived in 2004. With over 80 stalls, Broadway Market (positioned in the heart of East London) has a delightful rural like atmosphere. There is a great variety of stalls including farm produce, arts & crafts and vintage clothing. Broadway market is therefore a perfect place to go with family or friends on a Saturday to do a bit of shopping and eat some delicious food.
What's on offer:
Authentic Eastern Polish Pierogi (pastries).
A variety of cured sausages/meats.
Traditionally made Polish pate.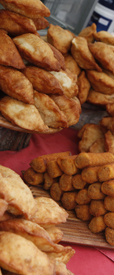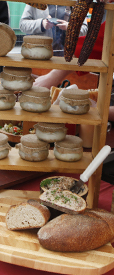 Broadway Market Stall
The market is open from 9am to 5pm every Saturday and there are more than 50 shops, pubs, cafes and restaurants that are open most of the week.
Broadway Market, Hackney E8
View Larger Map