Canopy Market
Last weekend of every month: Friday 11.00-20.00 // Saturday & Sunday 11.00-18.00
Canopy roof was constructed in 1888 to provide a covered area for unloading of fish and other perishable goods. The goods were unloaded from the railway carriages for distribution around London. Fish was sold here on Sundays when Billingsgate in the City of London was closed. Railway traffic ceased during the 1970s but the area continued to be used for deliveries and parking. Today, this roof is the home of Canopy Market, a vibrant place (positioned in the heart of Kings Cross) with a delightful atmosphere. There is a great variety of stalls including farm produce, arts & crafts and vintage clothing. Canopy market is therefore a perfect place to go with family or friends to do a bit of shopping and eat some delicious food.
What's on offer:
Sausage and potatoes from the grill
A variety of cured sausages/meats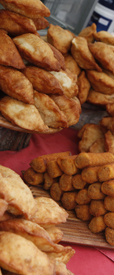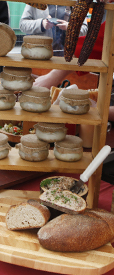 Canopy Market Stall
The market is open on last weekend of every month: Friday 11.00-20.00, Saturday & Sunday 11.00-18.00 and there are more than 50 shops, pubs, cafes and restaurants that are open most of the week.
Canopy Market, West Handyside Canopy, just off Granary Square, King's Cross
View Larger Map